The Mayor of Islington
The Mayor of Islington for 2021/22 is Councillor Troy Gallagher, and the Deputy Mayor is Councillor Marian Spall.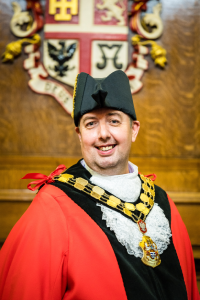 An introduction from the Mayor
It is a great honour for me to become the Mayor of Islington and the first citizen of this great borough. I am very proud to be the first Mayor of Islington from the Republic of Ireland.
Although not an Islingtonian by birth - for the past 21 years I have been one by choice having come to the UK to go to university and then moved to London to find work thereafter. In doing so, I followed in the footsteps of family members who originally emigrated to London in the 70's/80's to find work and made Islington their home.
Like many emigrants, Islington has been my 'home from home' for 20 years just as it has been 'home from home' for many emigrants from across the world. The largest of those groups, unsurprisingly, has been the Irish emigrants who came here in the late 40's and 50's to find work, quite literally, to rebuild Britain after the war. Those hundreds of thousands of Irish people who left the social austerity and economic depression of that Ireland in the mid-forties and kept Ireland afloat by sending hard earned money back home to parents and families. Those emigrants who paved the way for us were the people who suffered stigma of the 'no blacks, no dogs and no Irish' These very people formed the London Irish we know today and which, sadly, continues to this day after the economic crash of 2008.
I live in Whitecross Street in Bunhill – which was part the old metropolitan borough of Finsbury. Bunhill is a brilliant ward with wonderful people and is an area I have proudly represented as a councillor since 2010. Bunhill is a great area full of history from William Wallace to Henry V111, Dickens to Daniel Defoe, the non-conformists to John Wesley, from Jack the Ripper to the Krays and we still have residents who remember the night of the Blitz on Whitecross street and lived through the Second World War.
Born in Ireland to an Irish working-class family, I grew up in the Ireland of the 80's, similarly to 80's Britain, where money was scarce but there was always love and laughter based upon a foundation of great community spirit. This was my first and founding basis of politics; it is about the personal, it is about community. I truly believe that our communities are an extension of our families. There in time of happiness and struggle as we have seen in the past year.
I have seen first-hand how life can change for people overnight as a result of my father's work accident when I was quite young. This experience and the experience of that hardship, of the lack of opportunity and social exclusion, of being different, always sits with you throughout life and puts a constant burning desire within you, an unquenchable thirst to ensure that the hardship and struggle that I and my family went through doesn't become the normal experience for families and that the next generation doesn't have to suffer that same hardship.
I have always wanted to use my own lived experience to contribute and shape solutions to tackle poverty, inequality, discrimination, social isolation and injustice. That is why I got involved in politics canvassing for the first labour Senator in Donegal, my good friend, Sean Maloney. Politics gave me that route which to challenge my energy and use my personality.
This inspired me to live a life which helped others. Whilst at university, I was involved in student politics and improving student life.
When I first moved to Islington, an elderly resident asked me to write a letter to the council for her over a service issue. I happily did so and successfully get the issue dealt with. This led onto becoming chair of the my local tenants & residents association (TRA) and then being elected onto the then Labour governments EC1 New Deal for communities – a successful flagship government regeneration body aimed at tackling poverty in the 8 highest deprived areas for poverty areas across the UK.
Realising my passion for helping people and utilising those skills, I pursued a professional career in HR, which is aligned, to my personal values that I enjoy.
In my personal life, I have always tried to support those who need that little extra help to reach their full potential. As an Irish emigrant who this country has given an opportunity, I want to ensure that every person has the same chance or better and it is our job to ensure that we continue to build that pathway and be the signpost to help others. That they do not face discrimination in any form, and that they get that chance to explore and secure their aspirations and dreams.
I have served as school governor for Richard Cloudesley School for 6 years and held many senior roles within the council including chair of policy & performance scrutiny committee and was Islington council's Olympic championing overseeing the Boroughs Olympic celebrations.
During this pandemic, our community has suffered the loss of many loved ones. COVID-19 did not discriminate, and we remember them. Mental health issues have increased and is at crisis point. Sadly, and alarmingly so has the rate of suicide amongst young men. That is why I have chosen my three brilliant Charities – James Place, ICAP and Forum+ and all my energy and passion will be working with them and others to raise awareness, raise much-needed funds, open doors, and conversations to enable a culture change to save lives. Please do take a moment to read about them on the Mayor's Charity page.
Donate to the Mayor's charities.
The role of the Mayor
Islington has a ceremonial mayor, elected by his or her fellow councillors to serve for a one year term in office. During that term, the Mayor represents the borough at numerous civic and public events, acting as the borough's first citizen.
The Mayor chairs meetings of the full council. At those meetings, he or she is entitled to vote as an Islington councillor and also currently has the casting vote in the event of a tie after all councillors have voted.
The Mayor represents the council at many civic and ceremonial events, both in the borough and at other functions outside the borough.
The Mayor may attend a variety of events and functions, on average 500 per year, including:
Opening fairs and fetes
Visiting schools or day centres
Acting as guest speaker at dinners and receptions for various groups and organisations
Visiting residents on their 100th birthday and offering congratulations on behalf of the borough

Chairing all meetings of the full council
Each Mayor chooses specific charities to support and raise funds for throughout his or her year of office, this year the chosen charities are ICAP, forum+ and James Place.
The Mayor also plays an important part in supporting various other charities throughout the borough.
Past Mayor's of Islington
1965 Catherine Griffiths
1966-67: (Arthur James) Jim Coman 6 August 1902-1975
1967-68: Arthur Edward White
1968-69 Richard Ernest Trott
1969-70 Donald William Bromfield
1970-71 Robin Goodman
1971-72 Ernest Gough
1972-73 Mrs Patricia A Bradbury - wife of Richard Greening, 2015-16 mayor
1973-74 Harry Reid
1974-75: Jack Walker
1975-76 David J Davies
1976-77 Mrs Skip Gordon died 2004
1977-78 (HJ) Bert Stanfield
1978-79 Mrs Doris Rogers died 2004
1979-80 Arthur Bell
1980-81: James Evans
1981-82: Edna Browning
1982-83: Ted Doveton
1983-84: Patrick Haynes
1984-85: Rosie Dale
1985-86: Marjorie A Ogilvy-Webb
1986-87: Bob Crossman
1987-88: Terry Herbert
1988-89: Valda James
1989-90: Candy Atherton
1990-91: Maureen Leigh
1991-92: Joan Herbert
1992-93: Edna Griffiths
1993-94: Anne Gilman
1994-95: Michael Boye-Anawomah
1995-96: John Burke
1996-97: Sandy Marks
1997-98: Rupert Perry
1998-99: Meg Hillier
1999-2000: Jenny Sands
2000-01: Mary Powell
2001-02: Joe Trotter
2002-03: Margot Dunn
2003-04: Doreen Scott
2004-05: Joan Coupland
2005-06: Jonathan Dearth
2006-07: Jyoti Vaja
2007-08: Barbara Smith
2008-09: Stefan Kasprzyk
2009-10: Anna Berent
2010-11: Mouna Hamitouche
2011-12: Phil Kelly
2012-13: Jilani Chowdhury
2013-14 Barry Edwards
2014-15 Theresa Debono
2015-16 Richard Greening
2016-17 Kat Fletcher
2017-18 Una O'Halloran
2018-19 Dave Poyser
2019-20 Rakhia Ismail
2020-21 Janet Burgess
2021-22 Troy Gallagher

Past Mayors of Islington
1965 Catherine Griffiths
1966-67: (Arthur James) Jim Coman
1967-68: Arthur Edward White
1968-69 Richard Ernest Trott
1969-70 Donald William Bromfield
1970-71 Robin Goodman
1971-72 Ernest Gough
1972-73 Mrs Patricia A Bradbury
1973-74 Harry Reid
1974-75: Jack Walker
1975-76 David J Davies
1976-77 Mrs Skip Gordon
1977-78 (HJ) Bert Stanfield
1978-79 Mrs Doris Rogers
1979-80 Arthur Bell
1980-81: James Evans
1981-82: Edna Browning
1982-83: Ted Doveton
1983-84: Patrick Haynes
1984-85: Rosie Dale
1985-86: Marjorie A Ogilvy-Webb
1986-87: Bob Crossman
1987-88: Terry Herbert
1988-89: Valda James
1989-90: Candy Atherton
1990-91: Maureen Leigh
1991-92: Joan Herbert
1992-93: Edna Griffiths
1993-94: Anne Gilman
1994-95: Michael Boye-Anawomah
1995-96: John Burke
1996-97: Sandy Marks
1997-98: Rupert Perry
1998-99: Meg Hillier
1999-2000: Jenny Sands
2000-01: Mary Powell
2001-02: Joe Trotter
2002-03: Margot Dunn
2003-04: Doreen Scott
2004-05: Joan Coupland
2005-06: Jonathan Dearth
2006-07: Jyoti Vaja
2007-08: Barbara Smith
2008-09: Stefan Kasprzyk
2009-10: Anna Berent
2010-11: Mouna Hamitouche
2011-12: Phil Kelly
2012-13: Jilani Chowdhury
2013-14 Barry Edwards
2014-15 Theresa Debono
2015-16 Richard Greening
2016-17 Kat Fletcher
2017-18 Una O'Halloran
2018-19 Dave Poyser
2019-20 Rakhia Ismail
2020-21 Janet Burgess
2021-22 Troy Gallagher