Charlton Place and Camden Passage Consultation
Tell us what you think of proposed changes to Charlton Place and Camden Passage
This consultation has ended
| | |
| --- | --- |
| Start date | 25 July 2022 |
| End date | 22 August 2022 |
As part of our commitment to make Islington a cleaner, greener and healthier place for all, we are proposing to deliver improvements to Charlton Place and Camden Passage.
This is an exciting opportunity to support Camden Passage and the Angel Town Centre with measures to benefit local businesses such as outdoor seating, pavement widening and planting.
We want to hear from local people, community groups, businesses and anyone who uses these streets about what you think of our proposed plans. Please fill in the short online questionnaire to tell us what you think.
Proposed changes to Charlton Place and Camden Passage
Local people have told us they are concerned about increases in:
traffic volumes
traffic speeds
vibrations
through traffic.
We have been looking at how we can improve safety and accessibility as well as make the area more attractive.
We have developed possible designs shown in Map 1 - Camden Passage and the wider area and Map 2 - Charlton Place and Camden Passage proposal. You can also access the maps in the 'Useful documents' section at the bottom of the page.
Map 1 - Camden Passage and the wider area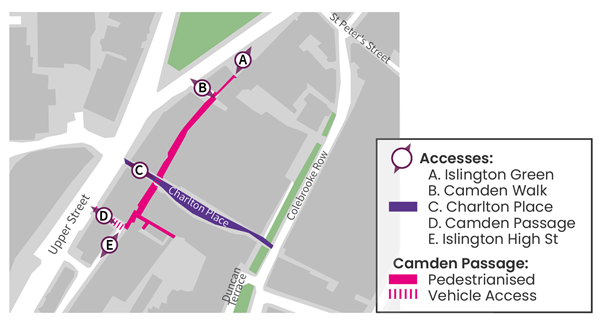 Map 2 - Charlton Place and Camden Passage proposal
We are proposing to:
Install a traffic restriction (e.g., a bollard, planter, or camera enforcement) at Charlton Place to stop vehicles driving through to Upper Street, while keeping access for vehicles from the south of Charlton Place
Allow people to cycle southbound down Charlton Place
Protect the unique local character and heritage of Camden Passage
Add measures to reinforce pedestrian priority across Camden passage with features such as tactile paving, blended crossings, and cycle signage on the pavement
To allow for the traffic restriction and turning vehicles on Charlton Place, we are proposing to make changes to parking:
Relocate 4 short stay parking bays to the south
Convert four residential parking bays into short stay parking
Create a flexible loading bay, which can be used by residents outside operational hours
Convert the existing short stay bay outside numbers 19-25 Charlton Place into a shared use resident / short stay bay
How to take part in the consultation
We want to know what you think of the proposed improvements and your ideas for Charlton Place and Camden Passage.
The quickest way to let us know what you think is to fill in the questionnaire by 11.59pm on Monday 22 August 2022 when the consultation period ends. It should take around 5-10minutes.
The feedback and ideas received during the consultation will feed into the decision and design process for Charlton Place.
Do you need the questionnaires in another language or reading format such as Braille, large print, audio or Easy Read? Please contact us at StPetersLTN@islington.gov.uk with more details. If you would like a hard copy (paper copy) of the questionnaires, please:
Write to: Public Realm, 1 Cottage Road, London, N7 8TP.
Visit us at Islington Town Hall reception (N1 2UD) to fill in a paper copy.
You can come and speak to us in person at our co-design workshops at Camden Passage and Charlton Place corner (open area next door to The Breakfast Club). No registration is required. On the following dates:
Tuesday 2 August 2022, 5.30pm-6.30pm
Tuesday 16 August 2022, 5.30pm-6.30pm
Or join us online for our meeting on Thursday 11 August 2022, 6pm-7pm. Registration is required. To register for the event please email StPetersLTN@islington.gov.uk.