Hate Crime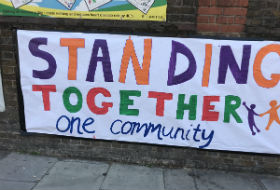 Islington is a proudly diverse borough with a history of tolerance and openness. Despite this rich tradition, hate crime is unfortunately a serious issue for some members of our community and can greatly impact on their quality of life. The council is determined to tackle hate crime and promote cohesion and good relations between all members of our community.
We collaborated with our partners in the Safer Islington Partnership (SIP), which includes the council, police, fire brigade and community groups, to develop a four-year strategy to tackle hate crime in the borough. Please see the link to this document at the bottom of the page.
What is a hate crime or incident?
A hate crime or incident takes place when someone is targeted because of their:

• religion or belief
• race or ethnic identity
• immigration status or nationality
• gender or gender identity
• disability
• sexual orientation

It counts as a hate crime when the law has been broken. However, the police also record all hate incidents, even when the law hasn't been broken.

What matters is why you think you have been targeted.
Examples of hate crimes or incidents are:
• Assault - including pushing, spitting, or pulling at clothes
• Threats, verbal abuse and abusive gestures
• Damage to property
• Offensive letters and graffiti
• Online abuse
• Harassment

There might be a single incident or a series of incidents.

It doesn't matter where an incident takes place, it can still count as a hate crime.
Why should I report it?
We know that many hate crimes and incidents are not reported. If more people report hate crime we can gain a better understanding of the problem and how to prevent it from happening.

Reporting it also means that you can access the support that's available to help you recover from the experience. It is the first step towards ensuring that the offender is caught and deterred from committing a crime again.

If you witness a hate crime or incident you can still report it.
How can I report it?
It is really important to report all hate crime incidents.
We understand that being a victim of hate crime can be distressing and may cause you to be upset, angry, in shock or hurt.
To help tackle such criminal behaviour and assist in making the community safer we strongly encourage you to report the incident to the police as soon as possible:
Call 999 in an emergency i.e. if the offender is still in the area, someone has been injured or there is a risk to life.
Report directly from your smart phone or mobile device using the Self-Evident App. This sends your report directly to your local police including your photographic and/or video evidence.
Report it online to the local police by going to report-it.org.uk.
Call 101 to make a non-emergency report to the police.
To report anonymously call Crimestoppers on 0800 555 111.
Who else can help?
Contact your Housing Officer if you are a social tenant or the Council's ASB reporting line outside office hours 0207 527 7272.
Islington Hate Crime Forum
The council supports the independent Islington Hate Crime Forum. We are committed to working with community organisations and individual members of our community through the forum to:
reduce the risk of becoming the victim of hate crime in Islington
improve the identification and reporting of hate crimes
support victims and those who fear being victims of hate crime
challenge the police to ensure quality investigations are carried out and improve the outcomes for victims who report a hate crime.
Membership of the forum consists of community partners who work with and represent all of the protected groups under current hate crime legislation.
If you would like support or advice from the forum or an individual member organisation, please email HateCrimeForum@islington.gov.uk.
If you feel unable to report a hate crime or incident then speak to someone for advice, e.g. teacher, youth worker, someone at your place of worship or a community group or another organisation.
What support is there?
You may find it difficult to be on your own and need your friends or family around you. You may feel you want the support of a helpline or counsellor. Try not to feel isolated or alone as there are people available to help.

Victim Support: 0808 168 9111 or www.victimsupport.org.uk.
Victim Support helps people cope with the effects of crime whether or not it is reported. It also provides information on local victim support groups.

Tell MAMA: 0800 456 1226 or http://tellmamauk.org/ .
Tell MAMA supports victims of anti-Muslim hate and is a public service which measures and monitors anti-Muslim incidents. It is not a replacement for the police.