Step Up to Social Work
What is Step Up to Social Work?
Step Up to Social Work is a Department for Education funded, fast-track programme that sees high calibre candidates qualified as Social Workers in 14 months. The programme is designed to support highly skilled graduates into social care.
Candidates receive a tax-free bursary payment of £19,833 over the duration of the programme and payment of University fees.
On completion, candidates obtain a postgraduate diploma in Social Work, allowing them to register and practice as a social worker.
Step Up is employer-led, delivered by the North, Central, East London Regional Partnership, made up of the London Boroughs of Islington, Hackney, Haringey, Enfield and Barnet, in collaboration with our academic partner. All of our boroughs are currently rated Good or Outstanding by Ofsted. We are at the forefront of improving outcomes for children and families with a number of innovative practice models including systemic practice, signs of safety and motivational interviewing. We also offer fantastic opportunities for training and development and support candidates to consolidate academic learning with real-life placement experiences.
What are the benefits of Step Up?
It's funded: Step Up students receive a bursary of £19,833 to train and there are no tuition fees to pay meaning it's a unique opportunity to earn while you learn

It's fast-track: after 14 months students qualify as a social worker, can register with Social Work England and are able to seek employment

It's employer-led: students are hosted by one of the Local Authorities in the partnership, undertaking 170 days on placement and gaining real social work experience, knowledge and skills in combination with academic study

It's a path to employment: upon successful completion of the programme, we aim to support graduates to apply for social work positions within the boroughs of the partnership.
What do I need to apply?
Social work is both a challenging and rewarding career through which you can make a real difference for vulnerable children and families. Candidates will need to build relationships with families facing difficult times, show a lot of patience and be a good listener. Candidates will also need good observational skills, analytical thinking and sound judgement to make the right decisions and protect children.

We are looking for strong graduates who have experience of working with children, young people and families and who can demonstrate their maturity and emotional resilience.
Candidates must have:
A minimum 2:1 Level 6 degree qualification (in any subject other than Social Work)
OR a minimum 2:2 honours degree plus a postgraduate qualification (Level 7 or above)
GCSE English or English Language and Mathematics at Grade C or above, or the new grade 4 and above (or approved equivalent)
Demonstrate significant experience of either working or substantial volunteering with vulnerable children, young people and/or families/carers or adults
We particularly welcome applications from men and from BAME candidates, as these groups are under-represented in this area of social work.
How do I apply?
Online applications will open from 15 February to 7 April 2021, followed by regional assessment centres for candidates successful at the initial application stage. Students can expect to start the programme in January 2022, completing their training in March 2023.

Applications are managed centrally by the DfE - Step Up to Social Work: information for applicants

Candidates will be required to show all original certificates as part of the application and assessment process. If you cannot find your original documents, you can order replacements online.
How do I find out more?
If you are interested in finding out more about Step Up or whether you are eligible to apply, please email Claire Bendjillali the Step Up Programme Manager.
More information about the role of a children's Social Worker can be found by reading the Knowledge and Skills Statement and the Professional Capabilities Framework.
What do our students say?
The North, Central, East London Regional Partnership has supported two cohorts of Step Up students through their programme. Many of our graduates have successfully found employment in our Local Authorities and are now supporting current Step Up students on placement.
Find out more about current student experiences on the Step Up Programme:
Rachel, Step Up student in Islington
"I decided to train to become a Social Worker as I was determined to build up to the next steps in my career, in a space where I would hold a professional qualification and have a wealth of opportunities to progress."
Read more about Rachel's Step up to Social Work experience in the latest Islington Life blog.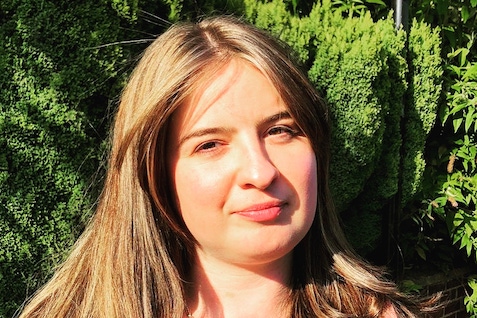 Faye, Step Up student in Enfield
"I have loved being on this course! I have learned more than I thought possible…The support and care from everyone has been unbelievable, everybody wants you to achieve and do well and it really shows."
Zeeshaan, Step Up student in Haringey
"This is an excellent course which I would recommend to anyone. It has a bit of everything and will give you an excellent insight into the role. It requires a lot of hard work and determination. It's all worth it in the end!"
Read more about Zeeshaan's Step Up experience.