Homes
Building more council housing and supporting private renters.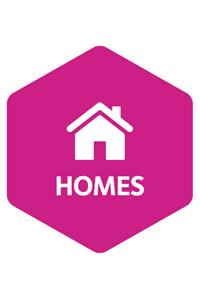 Islington is one of the most densely populated and expensive places to live in London. There is a shortage of good quality, genuinely affordable housing and a significant unmet housing need. 40% of council owned homes are smaller ​homes with only one bedroom and there is a particular need for homes with two bedrooms and larger family-sized homes. We want to ensure that everyone in Islington has a place to live that is affordable, decent and secure.
In our corporate plan 2015-2019 we said we would build more council housing and support private renters.
Our progress 2015/16 includes:
Building 241 new affordable homes were built by housing associations and the council
Reducing the number of households accepted as homeless from 396 to 375 – the third lowest in London
Permanently housed 1,000 households and prevented 520 families becoming homeless
Improving our housing repairs service so that 85% (42,500) repairs were fixed first time
Supported 179 under-occupied households to downsize
Taking enforcement action against rogue landlords
Launched our own lettings agency to provide private rented properties at genuinely affordable rates.